Upcoming GMC HUMMER EV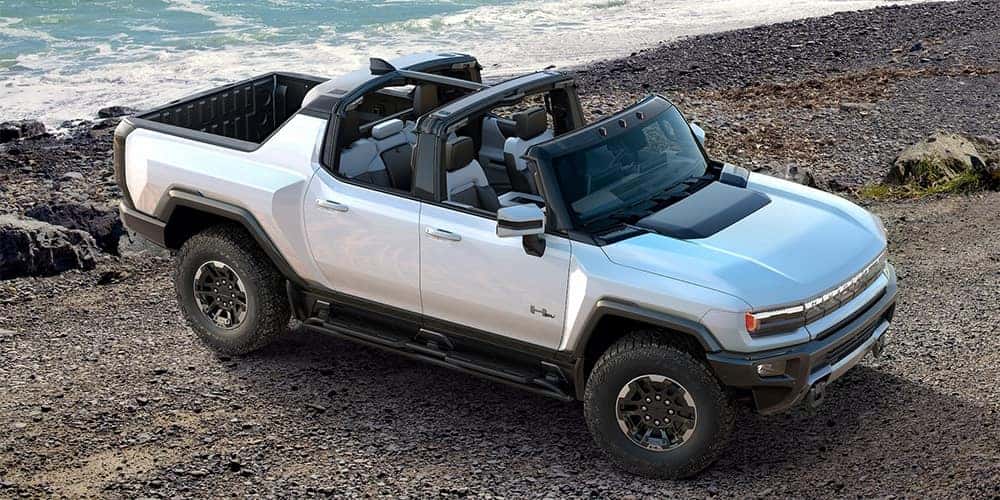 When it comes to the GMC Hummer, "electric" may not be the first word that comes to mind. But think again: the upcoming GMC Hummer is a GMC Hummer electric truck. Touted by GMC as the "world's first zero emissions, zero limits all-electric supertruck", the Hummer EV is scheduled to hit Houston dealerships starting in fall 2021. Ready to explore the EV side of off-road dominance? Join Texan GMC Buick for a look at the GMC Hummer electric technologies, trims, and more!
GMC HUMMER EV: Performance Technology
Despite its fuel-sipping tendencies, the GMC Hummer electric truck delivers the off-road performance Atoscocita drivers expect thanks to performance features like:
Ultravision with Underbody Cameras — Strategically-placed, waterproof underbody cameras provide up to 18 available views to assist you in choosing the best route along the trail. Plus, it's easy to keep your view clear with the included wash function and replaceable lens protectors.
Specially Engineered 35-Inch GMC Hummer Tires — Specially engineered 35-inch Goodyear® Wrangler Territory tires allow for incredible ground clearance, giving you better balance and more protection both on and off the road. Looking for more? The Hummer EV is 37″ OD tire-capable.
GMC HUMMER EV: Leading the Electric Revolution
This GMC Hummer electric vehicle hasn't even hit the market, but it's already a leader in charging efficiency. For that, you can thank its Ultium battery and plenty of EV innovations:
The latest version of Super Cruise™ equips the new GMC Hummer with driver-assistance technology for hands-free driving. Automatic lane changing is available on more than 200,000 miles of compatible roads — and counting.
Estimated available driving range of 350+ miles.*
Select Hummer EV trims are compatible with 800V DC fast chargers (up to 350kW*), enabling almost 100 miles of range with just 10 minutes* of charging.
The Regen on Demand™ steering-wheel paddle and One-Pedal Driving capture the power of regenerative braking, and help to take you further in Kingwood.
GMC Electric HUMMER EV: Trim Levels
Depending on the trim level you choose, the GMC electric Hummer will be available to purchase between fall 2021 and spring 2024. Check out the four available trim levels and reserve yours today:
Hummer EV2
Starting at $79,995*
Available spring 2024
2 motors
Estimated 250+ mile range*
625 hp/7,400 lb-ft of torque*
Hummer EV2X
Starting at $89,995*
Available spring 2023
2 motors
Estimated 300+ mile range*
625 hp/7,400 lb-ft of torque*
Hummer EV3X
Starting at $99,995*
Available fall 2022
3 motors
Estimated 300+ mile range*
800 hp/9,500 lb-ft of torque*
Hummer EV Edition 1
Starting at $112,595*
Available fall 2021 (reservations full)
3 motors
Estimated 350+ mile range*
1,000 hp/11,500 lb-ft of torque*
0-60 in approximately 3 seconds*
Explore GMC HUMMER Electric Technology with Texan GMC Buick
Questions about the GMC Hummer electric truck performance specs and GMC accessories or want to learn more about the GMC Terrain towing capacity? The team at Texan GMC Buick is here to help you find the Hummer you're looking for with convenient online buying tools. Contact us or drop by our dealership today — we're just a quick drive from Huffman and Mt. Houston!